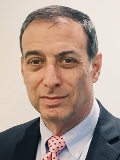 Jeff Dykan
Partner
Mr. Dykan has been a Managing Partner with Vitalife since 2002. At Vitalife he has had a lead role in managing its investments, including arranging financings and M&A. He came to Vitalife with over 25 years experience in finance, business development and general management in global growth companies and startups.
Prior to joining Vitalife, he was recruited by Sequoia Capital to be Chairman and CEO of BitBand, an IP broadband start up, and successfully turned that company around. Before arriving at BitBand in 2001, Mr. Dykan held several senior financial positions, including a stint as CFO at VocalTec Communications, nine years as Director of Regional Finance for Applied Materials in Israel and four years as VP Finance at Opal. Mr. Dykan began his career in the United States in 1981 with Andersen Consulting in New York.
Mr. Dykan is Chairman of ReWalk Robotics and Trig Medical, serves on the board of directors of novoGI, Regentis Biomaterials, Deep Breeze and Beta-O2 Technologies, and was previously a board member of Colbar Lifescience (acquired by J&J) and Can-Fite BioPharma (TASE: CFBI).
He has a B.S. in accounting and management from New York University and an MBA in computer applications also from New York University. Mr. Dykan is also licensed in New York State as a certified public accountant.